Administrator
Creative Team
User ID

1
Joined

7 Jan 2019
Messages

499
Reaction score

22
Points

18
One common problem with moving WordPress to a new domain or directory is that updating the settings does not update the permalinks or URLs embedded in the content. This means that images and other uploaded content will not show up!
This plug-in fixes that problem.
It updates all URLs and content links in your website
to reflect the move to the new domain or directory.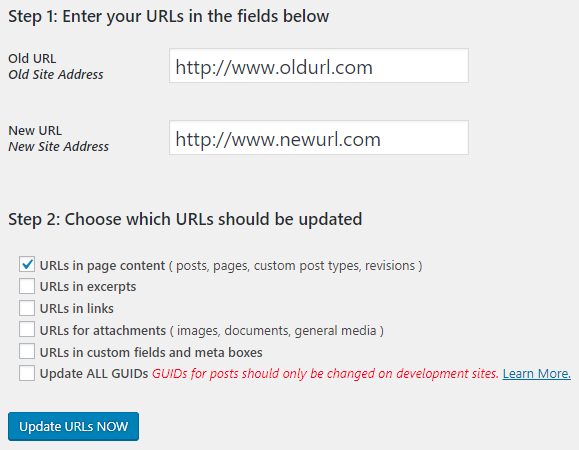 You can download the latest version of Velvet Blues Update URLs plugin from:
Code:
http://downloads.wordpress.org/plugin/velvet-blues-update-urls.zip
This plug-in's official website:
Code:
http://www.velvetblues.com/web-development-blog/wordpress-plugin-update-urls/
Installation:
You can use WordPress' automatic install or follow the manual instructions below.
Download the plugin and unzip.
Put the velvet-blues-update-urls folder in your wp-content/plugins folder.
Activate the plugin through the WordPress admin.
Access the plugin by going to Tools -> Update URLs.
FAQs:
Do I need to approve each change? Or does the plugin update all URLs at once? The plugin updates all URLs at once. However, the next version will give you the option to 'Replace All' or selectively replace/edit some urls.
What do I do if it doesn't work? Verify that the URLs that you entered are correct and try again. If it still doesn't work, post a comment to ask for support. Note: URLs are only replaced if an exact match is found. (Matching is case-sensitive.)
Why aren't the urls in my navigation updated? Depending on the settings of your theme, the 'root domain' of your URLs may be controlled by the URL addresses that you've set in your site settings.
Can I deactivate the plugin when I'm done? Yes. All changes are permanent. After using the plugin, you can safely deactivate and remove it.
Let me know if this plug-in works for you as well by commenting down below. Cheers!