Administrator
Creative Team
User ID

1
Joined

7 Jan 2019
Messages

943
Reaction score

40
Points

28
Follow this guide to easily and safely convert your HFS+ volume to an APFS volume.
Go to
Disk Utility
and
Unmount
the volume you want to convert.
Right-click the volume and select
Convert to APFS
(this option will only available if the volume is unmounted)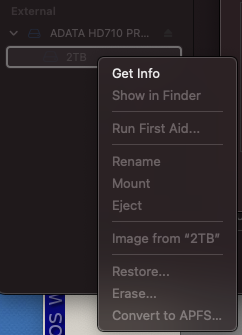 (The screenshot above showing Convert to APFS isn't available, because I was in the middle of converting my volume)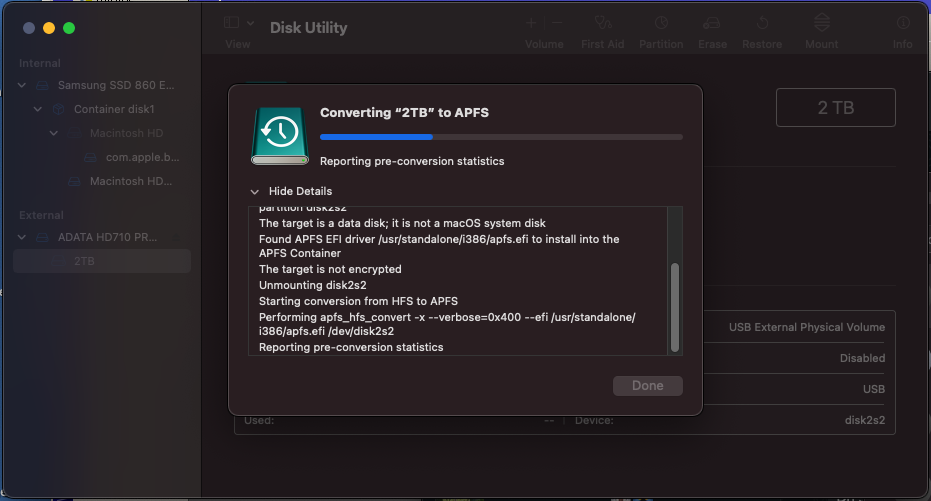 Here's the raw output:
Code:
Converting "2TB" to APFS

Converting HFS Volume to an APFS Container which will export one APFS Volume
The target is the Journaled HFS+ volume "2TB" backed by the GPT partition disk2s2
The target is a data disk; it is not a macOS system disk
Found APFS EFI driver /usr/standalone/i386/apfs.efi to install into the APFS Container
The target is not encrypted
Unmounting disk2s2
Starting conversion from HFS to APFS
Performing apfs_hfs_convert -x --verbose=0x400 --efi /usr/standalone/i386/apfs.efi /dev/disk2s2
Reporting pre-conversion statistics
Reporting post-conversion statistics
Successfully finished conversion from HFS to APFS
Successful conversion in commit mode so will switch type to APFS
Setting type of disk2s2 to APFS
Changing the physical disk partition type in shared mode
Partition modification attempt count was 1
Opening and closing disk2s2 to terminate old content driver
Expecting the new APFS Container at Physical Store disk2s2
Confirmed existence of new unencrypted APFS Volume disk3s1
Mounting APFS Volume disk3s1
APFS Volume mount attempt result was 0
Exiting conversion operations with error code 0

Operation successful.
It took 1.75 hours for our 2 TB, USB 3 external HDD (it was a time machine backup drive)
Here's the volume after we converted it.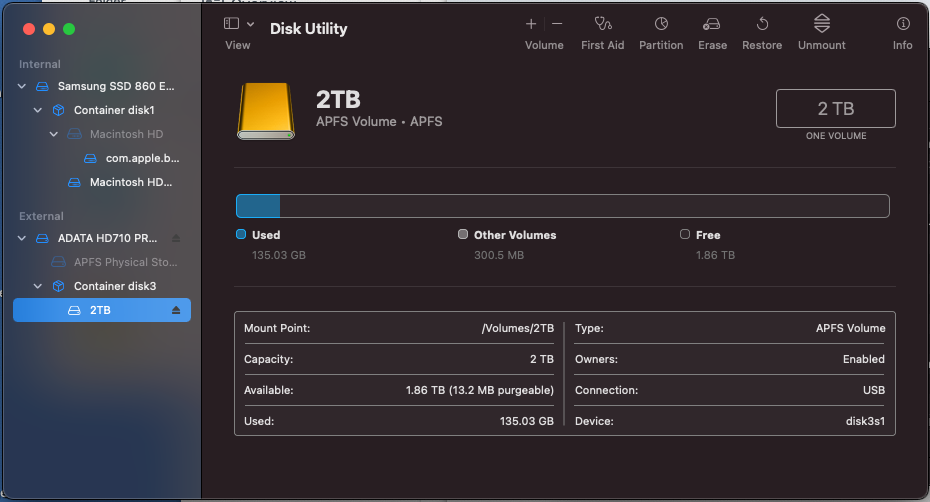 I hope this article been useful to you. Post your comment or questions down below if you have one